BLACK FRIDAY DEAL 2020(VALID FROM 11.24-11.30.)
10% OFF $50 WITH CODE: BFCODE10%
15% OFF $150 WITH CODE: BFCODE15%
Product Details
PREMIUM MATERIAL: Outer layer with 100% Cotton Canvas, the inner layer with thick fleece, windproof and snowproof. This dog fleece jacket will keep your lovely pet warm in the cold weather.

7 SIZE AVAILABLE : XS, S, M, L, XL, XXL, XXXL fits for nearly all kinds of breed furry friend, Such as Teddy, Chihuahua, Beagle, Poodle, Bulldog, Schnauzer, Labrador, Golden Retriever, etc. Perfect for daily wear, suitable for all indoor and outdoor activities in autumn and winter. If your dog is between sizes, or if dog is Strong of Bushy, we suggest you select larger size to make sure your dog is comfortable.

CREATIVE DESIGN: Hook & Loop Design on Chest:easy to put on and take off, will do not hurt your pet dogs. It is perfect for hiking and outdoor activities. The protective guard fabric under the zipper prevents the trouble of skin/fur pinch

REFLECTIVE: Reflective piping on Neck and Back. highly visible near street lights or headlights ensuring your pet's safety.

QUALITY: We are aiming to create the best dog coat. If you have any problem when receiving the dog jacket, please feel free to contact us, we will solve your problems within 24 hours.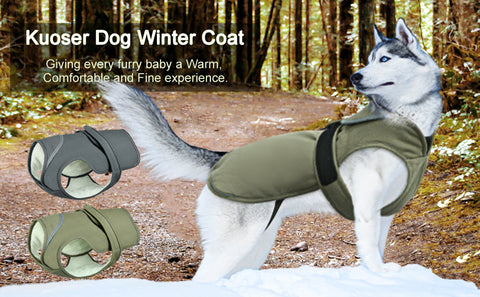 Cold days is coming, do you have prepared winter clothes for your furry friends? If have not yet, our dog winter jacket is a perfect gift for your dog
This Canvas Fleece Vest is soft and warm to protect you beloved puppy in the cold weather.
Perfect for Outdoor or indoor activities, such as daily walking, hunting&skiing.
perfect size to all Large medium and small dogs. such as golden retriever, Labrador, husky, Teddy, schnauzer, Samoyed.Cocker Spaniel, Boston Terriers and Bulldogs etc, Small breed puppies, Chiwawa, Yorkshire Terrier, Maltese, Mini Pinscher, Pomeranian, mini Poodle, Jack Russel, pug, Pekingese, medium breed dog, Large breed dogs.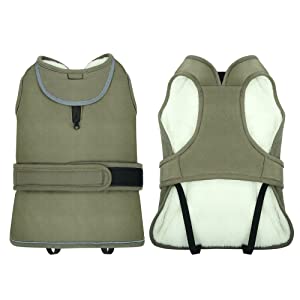 Product Features
Material: 100% Cotton+fleece, Warm & Comfortable

Water resistant canvason one side for walks on Rainy & Snowy days

Easy HOOk&LOOP Closure. Easily put on & take off

Hole for Collar & Harness

Reflective band on neck & back for high visibility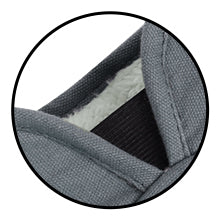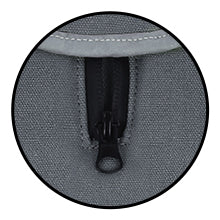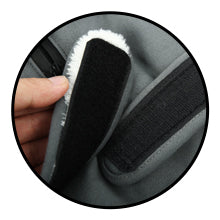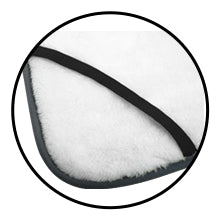 Elastic Neck band  Zipper Harness Hole  Hook & Loop Closure  Elastic hind band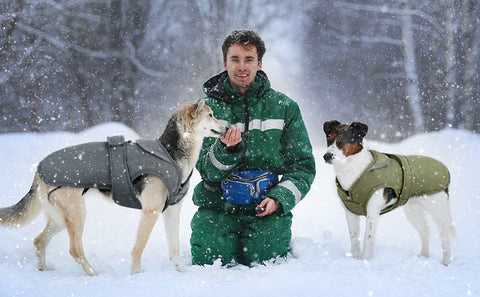 Update- to my earlier review
I am very happy to update my review now that the coat has arrived. We purchased the grey coat in XL for our 70 lb Rhodesian Ridgeback and it fits perfectly! Because of the design it is very easy to put on him without having to place his front legs thru an opening; instead it goes on like a harness. The canvas is nice and sturdy feeling and the underside is a lovely fleecy material and will keep our boy warm and cozy. I wasn't sure what size to order but when I emailed customer service with measurements they replied super quick and with the right information. I think this coat is a good value and I recommend it.
I have a 220 pound European Dane NO HES NOT FAT !
He fits with room to breathe 3xl , I wish they would make a fleece I would order some . He dont fit in anything else
Ive been putting him in my husbands 4xtall sweatshirts , and I cut the sleeves shorter! Then I put a belt around his middle to hold it up from sagging ! He looks ridiculous !
Kuoser Canvas Cold Weather Dog Coat for Winter
Hasn't arrived yet
I'm looking forward to getting this coat for Kingsley and then I will give you a review!
Great fit, great quality!