The 10 Best Dog Life Jackets Vests for 2021
In recent times, the northwestern United States is hitting extreme weather, and these extremes directly make the temperature soar to a terrible state. Because the temperature is so high, it has brought severe effects to many cities in the United States.

In this hot weather. How nice it would be to soak in the water every day. Many owners will take their dogs to swim, and although the pool is safer than swimming at the beach, many things need attention. Here is a selection of 10 dog life jackets so that dogs have fun and can ensure safety.
How to Choose a Dog Life Jacket or Vests?
Before sharing our choices, I will introduce you to the functions that good dog life jackets should satisfy
1.Buoyancy: Make sure your dog can float on the water
2.Handle: You can quickly move your dog from the water to a safe place.
3.D-ring: Put a rope on the dog and let it move around you
4.Color: The dog's life jacket comes in various colors and patterns. Bright colors or life jackets with reflective strips will make it easier for him to be found in the water.
5.Size and Fit: Make sure that the dog life jacket you buy is the right size for your dog. Make sure that when your dog is wearing it, it stays comfortable, can sit and lie down easily, and does not feel discomfort. To achieve the best fit, make sure to measure your dog's circumference and torso and choose the right size.
The below Best Dog Life Jackets links: Keeping Your dog Safe!
The Most Eye-catching Dog Life Jacket:
No matter how eager your dog is to get into the water and play. Please remember to put a dog life jacket on him/her before starting the fun. This Kuoser dog life jacket with fin will help your dog make a splash comfortably and safely.

It is inspired by the fins that come out of the water when a shark swims. We added this design element to this dog life jacket, making your dog the most eye-catching dog when playing in the water.
Pros:
Perfect for pool parties, trips to the beach or on the boat.
The handle makes it easy for you to help pup back up onto paddle board.
It provides support as it boosts the Bulldog's confidence when swimming.
Cons:
The vest can be mistaken for a shark in the water.
Top-Rated Budget Life Jacket:
This dog life jacket comes with a grab-handle on the top, perfect for easy rescue lifting. Also, a strong D-ring is attached for convenient dog leash installation. The most persistent reflective trim can enhance the visibility in or out of the water.
Pros:
Eye-catching color: yellow & red
Very sturdy, well made.
Very comfortable and helps him float for more confidence
Cons:
Sturdy Doggie PFD:
The very bright orange color on this dog life jacket allows you to spot the dog from the water or in low light easily. A large bellyband is designed on the abdomen, which can hold the dog tightly. The two straps are fixed by buckles and can be adjusted arbitrarily to suit dogs of different shapes and sizes.
Pros:
Easy to put on
It promises safe to use as its front float gives assistance to keep his head above the water.
Cons:
When your dog is overweight, please choose a more oversized life jacket for more buoyancy.
Best Football Player:
There are the adjustable belt and quick-release buckles to make your dog fit comfortably, easy to put on and take off. Handle on top for quick and easy grabbing. The Heavy-duty D-ring Hook is perfect for a dog leash. Convenient top grab handle for easy rescues by hand or boat hook. The creative football style makes your pet become the star while swimming, walking, and other water-based activities. Perfect for pool parties, trips to the beach, or on the boat.
Pros:
It offers better fitting with its interior buckles and straps.
Decent Size Fit
Cons:
Cutest Dog Life Jacket:
Made of high-quality professional floating polyester and advanced breathable mesh underbelly to keep good flotation and proper draining and drying.
The light and strong materials are more suitable for small and medium-sized dogs, bulldogs, corgis, and teddy dogs. It can keep your dog floating on the surface of the water when rowing, canoeing, surfing, and swimming.
Pros:
The adorable jacket is functional in the water activities of your pet.
It is very flexible in its dorsal fin found at its back portion.
Cons:
The Fastest Drying Dog Life Jacket:
Summer is coming, searching for the perfect dog lifejacket for your friend, but do not feel like spending time choosing the best ?

The Kuoser dog lifejacket is the best present for your dogs, you can play with your pets to promote the relationship between you and your pet. No more worrying about the hot summer days!
Pros:
The mesh cloth contributes to your pet's perspiration and is good for its drying.

Make it the best gift for cute pets or as decorations to make pets fashionable.
Cons:
Best Overall:
Dogs love water too! Let them wear a new mermaid dog life jacket, just like a real mermaid. These mermaid life jackets are perfect for keeping your dog safe. The dog's head is exposed to the water and keeps breathing normally. Throughout the summer, your beloved dog swims in the pool, lake, or river to become the most shining star.
Made of high-quality oxford cloth and polyethylene foam.
An advanced breathable mesh lining underbelly for proper cleaning.
Drying fast offers the maximum comfort and warmth.
Best for Large Dogs: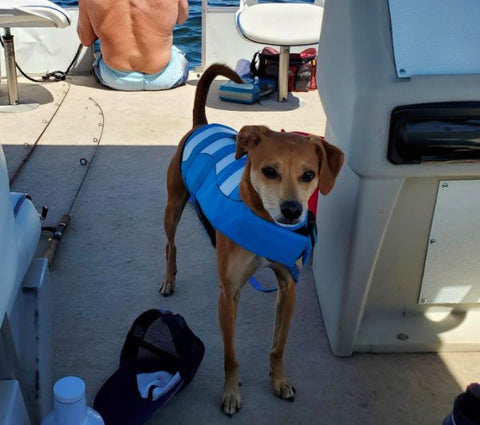 The chest and neck girths of this dog life jacket are also adjustable with sticker closure. You can adjust the girth to get a perfect fit for your dog. You don't need to take the life vest off your dog when onshore. The breathable fabric is comfortable enough for them to run around freely.
Best for Small Dogs:
Pet owners looking for a fun and reliable dog life jacket may want to check out Polka Dot Pet Life Jacket. This PFD offers all the same floating and safety functions as other brands, but with cute Dot. Dot is equipped with reflective strips to provide maximum visibility. It also provides handles for raising pets and adjustable nylon straps with quick release buckles for easy putting on and taking off.
Best for Large Dogs:
It features a super strong grab handle, and an adjustable telescoping neck for a customized fit. This dog life vest comes with vibrant purple, red, green and features a breathable mesh underbelly that drains and dries quickly. Crafted from durable high grade polyester materials that resist cuts, scrapes, and tears, this is a dog life vest that is built to last many summers. Panels are filled with pearl cotton foam inner which gives the life jacket strong buoyancy and ensures that your dog can swim freely in the water. And durable quick release buckles ensure a snug fit to avoid the dog being able to get a paw inside.
SPREAD THE LOVE
Before you finish the reading...If you find this article helpful, would you please share this on Facebook and contact us @Kuoser US? We will grant you a 30% discount coupon on your next purchase at Kuoser. Share
Frequently Asked Questions About Dog Life Jackets
1.What is a Dog Life Jacket?
Just like people, a dog's life jacket is the clothing worn on the chest, and a life jacket is made of stuffing materials. If they enter the water, the dog can float on the water. Besides, they have gripping handles. You can lift the dog out of the water. Dog life jackets are colorful.
In the water, various colors and patterns also help to improve visibility.
2.Why Dogs Need Dog Life Jackets?
Are dogs born with the ability to swim? Although many dogs can swim, thousands of dogs die in the water every year. There are many reasons why dogs drown. As a Dog lover, I would ask these dog owners "Does the dog wear a dog life jacket?" "No" All of the dogs in the accident did not wear dog life jackets. They really need that one.
Not all dogs can swim. Some breeds of dogs, especially bulldogs and Boston terriers, are inherently unsuitable for swimming. Even if they try to swim, they will sink like rocks to the bottom of the pool. In this time, Dog life jackets keep them safe, they enjoy more water.
3.Do Dogs Who Be Strong Swimmer Don't Need a Life Jacket?
Of course not. I admit that your dog is an excellent swimmer, but even the best oarsman can't swim for a long time. If an accident happens in the water, your dog will be in danger. If your dog is hanging out near the swimming pool or going on a boat with you, remember to put on a dog life vest.
4.Can Dogs Wear Human Life Jackets?
It's really a bad idea, First of all, the structure is completely different. If the human life jacket is too large, the dog may run out of it. If it is too small, it can't support the buoyancy required by the dog.
So, do dogs need life jackets? In the final analysis, only the dog's owner can make that decision. After all, this is one case in which you are your dog's best friend.
Choose a life jacket for your dog.
5.How to Measure Your Dog for a Life Jacket?
To measure your dog, first, measure the dog from the shoulder to the base of the tail. You should also measure around the fattest part of the dog's chest and the narrowest part of the waist to make sure you find a dog life jacket suitable.
Also, measure on the dog's neck. (If you don't have a tape measure with you, just take some rope and use it to measure your dog. Then you can use a tape measure or ruler to measure this rope.)
We will also provide a reference value of weight
Final thoughts
If you love this blog post, please don't hesitate to Share it with your family & friends! Once you've done the sharing, find us on
@Kuoser US, we'll grant you a 30% discount coupon on your next purchase at Kuoser! Thank you so much for reading & sharing!
READ NEXT:
---