The 10 Best Dog Life Jackets Vests for 2021
What is a dog life jacket?
Just like people, a dog's life jacket is the clothing worn on the chest, and a life jacket is made of stuffing materials. If they enter the water, the dog can float on the water. Besides, they have gripping handles. You can lift the dog out of the water. Dog life jackets are colorful.
In the water, various colors and patterns also help to improve visibility.
Why dogs need dog life jackets?
Are dogs born with the ability to swim?
Although many dogs can swim, thousands of dogs die in the water every year. There are many reasons why dogs drown. As a Dog lover, I would ask these dog owners "Does the dog wear a dog life jacket?" "No" All of the dogs in the accident did not wear dog life jackets. They really need that one.
Not all dogs can swim. Some breeds of dogs, especially bulldogs and Boston terriers, are inherently unsuitable for swimming. Even if they try to swim, they will sink like rocks to the bottom of the pool. In this time, Dog life jackets keep them safe, they enjoy more water.
Do dogs who be strong swimmer don't need a life jacket?
Of course not. I admit that your dog is an excellent swimmer, but even the best oarsman can't swim for a long time. If an accident happens in the water, your dog will be in danger. If your dog is hanging out near the swimming pool or going on a boat with you, remember to put on a dog life vest.
Can dogs wear human life jackets?
It's really a bad idea, First of all, the structure is completely different. If the human life jacket is too large, the dog may run out of it. If it is too small, it can't support the buoyancy required by the dog.
So, do dogs need life jackets? In the final analysis, only the dog's owner can make that decision. After all, this is one case in which you are your dog's best friend.
Choose a life jacket for your dog.
How to choose a dog life jacket or vests?
Before sharing our choices, I will introduce you to the functions that good dog life jackets should satisfy
1.buoyancy: Make sure your dog can float on the water
2.Handle: You can quickly move your dog from the water to a safe place.
3.D-ring: Put a rope on the dog and let it move around you
4.Color: The dog's life jacket comes in various colors and patterns. Bright colors or life jackets with reflective strips will make it easier for him to be found in the water.
5.Size and Fit: Make sure that the dog life jacket you buy is the right size for your dog. Make sure that when your dog is wearing it, it stays comfortable, can sit and lie down easily, and does not feel discomfort. To achieve the best fit, make sure to measure your dog's circumference and torso and choose the right size.
Where to buy dog life jacket? Dog life jackers-Online Shop
The below Best Dog Life Jackets links: Keeping Your dog Safe!
 Adjustable belt and quick-release buckles to make your dog fit comfortably, easy to put on and take off. Handle on top for quick and easy grabbing. The Heavy-duty D-ring Hook is perfect for a dog leash. Convenient top grab handle for easy rescues by hand or boat hook.
Surely make your pet become the star while swimming, walking, and other water-based activities. Perfect for pool parties, trips to the beach or on the boat.
Made of high-quality professional floating polyester and advanced breathable mesh underbelly to keep good flotation and proper draining and drying.
The light and strong materials are more suitable for small and medium-sized dogs, bulldogs, corgis, and teddy dogs. It can keep your dog floating on the surface of the water when rowing, canoeing, surfing, and swimming.
Dogs love water too! Let them wear a new mermaid dog life jacket, just like a real mermaid. These mermaid life jackets are perfect for keeping your dog safe. The dog's head is exposed to the water and keeps breathing normally. Throughout the summer, your beloved dog swims in the pool, lake, or river to become the most shining star.
Made of high-quality oxford cloth and polyethylene foam.
An advanced breathable mesh lining underbelly for proper cleaning.
Drying fast offers the maximum comfort and warmth.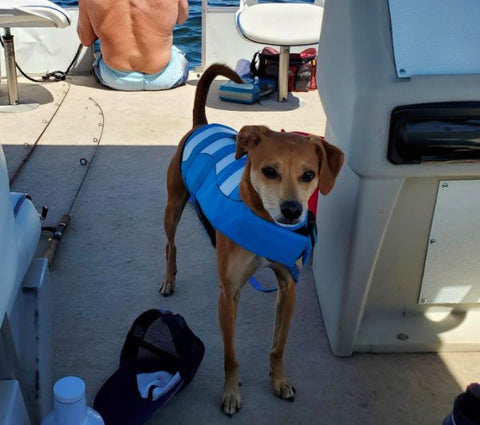 The chest and neck girths of this dog life jacket are also adjustable with sticker closure. You can adjust the girth to get a perfect fit for your dog. You don't need to take the life vest off your dog when onshore. The breathable fabric is comfortable enough for them to run around freely.
The life jacket uses bright colors and a unique design to increase the field of view. When you play in the water, you can find your pet easily and quickly. The football pattern on the clothes makes your pet look like a cute football fan.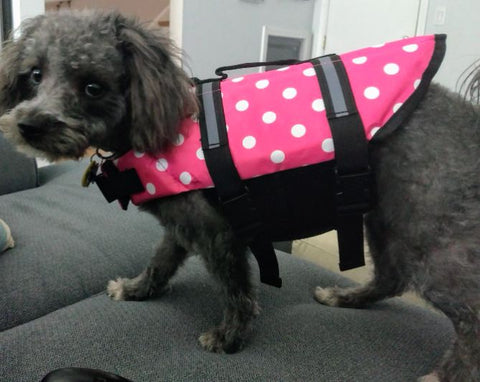 How to Measure Your Dog for a Life Jacket?
To measure your dog, first, measure the dog from the shoulder to the base of the tail. You should also measure around the fattest part of the dog's chest and the narrowest part of the waist to make sure you find a dog life jacket suitable.
Also, measure on the dog's neck. (If you don't have a tape measure with you, just take some rope and use it to measure your dog. Then you can use a tape measure or ruler to measure this rope.)
We will also provide a reference value of weight
Brilliant Dog Gallery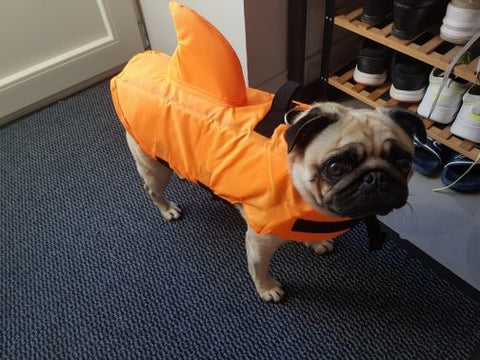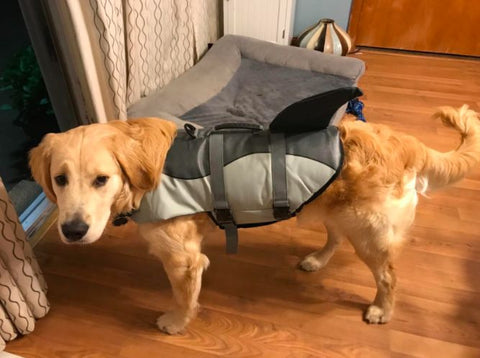 ---