10 Types of Dog Collars to Choose for Your Dog
The necessity of the dog collars to manage the furry companion cannot be denied. They are essential for hanging the leash, dog licenses, IDs, vaccination licenses, etc. But the purpose of the dog collar is not limited to just identification and decoration.  To achieve these different purposes, not all dog collars can be used for all dogs.
There are several different types of dog collars present in the market. One can choose from these different types depending upon the type of purpose and nature of the dog. We have listed ten types of dog collars that may help you to choose a collar for your pet friend.
Types of Dog Collars
Dog collars are classified into several different types depending upon their function for the pet and the owner.
1. Flat Collar
It is regarded as a standard collar for dogs. This collar is usually made of materials like Nylon, Leather, and Cloth.  There is a plastic snap or buckle closure and a ring for the attachment of the leash and tags. This flat collar can be found in many designs and colors. You should know that collar should fit on the dog's neck comfortably, leaving a space of two fingers between the collar and skin.
Pro:
Most suitable collar for tie-outs as there is a slight chance for the dog to hurt himself.
Con:
Letting your dog wear this collar for a long time may cause skin problems.
2. Martingale Collar
Also famous as a limited-slip collar, this is exclusively made for dogs having narrow heads like Greyhounds, Whippets, and sighthounds. It consists of two loops with a metal ring at each end. There is an adjustable loop that goes around the neck. The leash is attached to the ring on loop. In case a pup tries to escape or pull, the collar is tightened around the neck.
Pro:
This collar is very effective for slim-neck dogs and dogs that are adept at escaping.
Con:
Many owners find this collar ineffective for small dogs or bull-necked dogs. It also poses little danger of choking.
3. Led Collar
LED light-up dog collars can make nighttime frolics both safe and fun!
Whether you're on a family summer camping trip or just taking a quick nighttime stroll around the neighborhood, a light-up collar can help keep your dog safely visible in the dark.
Pro:
Dog mom loves this LED collar - it's sleek, edgy, and very bright.
Con:
This LED dog collar is windproof and not waterproof. The difference is that the collar can withstand some light rain or snowfall. But pouring rain, or if your dog decides to paddle in a creek, you can damage the collar.
4. Chain Slip Collars
These collars are also named Choke Chains and are used for training purposes only. During training the dog with a leash, a quick tug on the leash causes it to close on the dog's neck giving corrections to the dog.  One should first learn this collar's proper use before buying it.
Pro:
This collar is used by trainers, new handlers and is also used in show rings.
Con:
Its improper use can be fatal for the dog. They can pose a strangulation hazard if left on the dog unattended.
5. Metal Prong Collars
Like the chain slip collars, these collars are also used for training purposes. They have a very harsh appearance and prove to be very effective for stubborn dogs. It resembles a martingale collar. However, the main loop passing around the neck is made of prongs. When pulled, this loop pokes the dog stimulating a bite.
Pro:
This collar is useful for aggressive dogs and strong pullers.
Con:
People misuse this collar in dog fights by causing needle-like pain in the dog.
6. Harnesse Collar
It is designed to place around a dog's chest and abdomen. A leash is attached to the top. Many dog owners prefer harnesses for strong pullers and dogs having medical problems. It was designed for working dogs.
Pro:
It is very effective for dogs who may get harmed due to collars.
Con:
Harnesse collar encourages pulling.  Therefore, leash and collar training should be imposed.
7. Smart Collar
It is a much advanced collar than a traditional buckle collar. There are different types of smart collars, with each having different attributes. Some come up with a GPS to monitor the dog's location; others have systems to monitor the behavioral changes and aid in dog training.  They are compatible with smartphone apps.
Pro:
Very helpful for the dog owners to trace their dog or look for their dog's behavior.
Con:
It may be expensive, and the technology may not be as accurate as mobile GPS.
8. Vibrating Collar
This collar is used to produce a vibrating sensation for getting the dog's attention. The collar will vibrate upon pressing a button by the owner. It is a great way to communicate with the dog.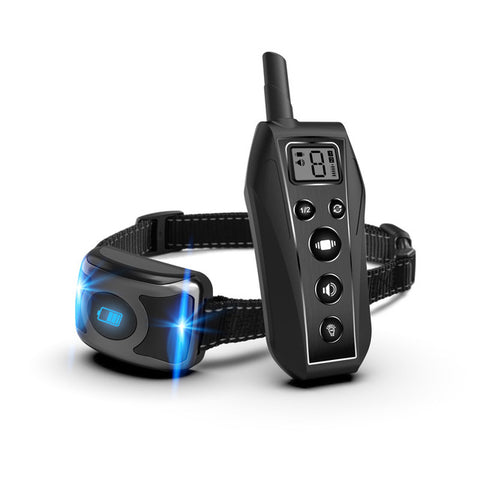 Pro:
Very helpful to communicate with a deaf dog and can also help to control excessive barking dogs.
Con:
It may induce fear and anxiety in a dog.  It can also cause skin irritation.
9. Elizabethan Collar
This collar is exclusively designed to prevent a dog from licking a wounded area.  The dog will be able to eat and drink but will not be able to reach for the healing area after wearing this collar. This collar is designed into the shape of a cone, and owners attach it around the dog's neck.
Pro:
This collar is beneficial for the protection of the dog. There are various designs and color options to make your dog comfortable with it.
Con:
It is not very effective in big dogs due to not being made of durable material. A big dog will easily crush this collar.
10.Show Collars
These are slip collars made out of braided material like leather or metal.  They are used to control the dogs in a dog show. Martingale leads have a collar portion slipping over the head and tightening when a lead is pulled.  These are commonly used to control the toy breeds in the show ring. They have a round shape rather than a flat one and a color matching or blends with a dog coat.
Pro:
These collars are exclusively designed for dogs participating in shows, thus are very helpful to the trainers in a show.
Con:
They can't be used for everyday use as untrained dogs will easily break them
SPREAD THE LOVE
Before you finish the reading...If you find this article helpful, would you please share this on Facebook and contact us @Kuoser Dog Apparel? We will grant you a 30% discount coupon on your next purchase at Kuoser. Share
How to Choose a Dog Collar by Activity?
Before choosing a dog collar, it is essential to know the size of your dog's neck. A misfit collar will let your dog escape from the leash, or a too-tight collar will suffocate your dog. Therefore it is necessary to know the right size of your dog's collar.
Measure your dog's neck with a flexible measuring tape that can be twisted around your dog's neck.
In case of the absence of measuring tape, use a string and a ruler. Wrap a string around your dog's neck and measure the size of the string with a ruler.
A collar should have a space of two fingers between it and the dog's neck. For that purpose, insert your two fingers between measuring tape or string in the process of size measurement.
Now, determine the need and nature of your dog, and then choose a suitable collar from the types described above.
What Collars do Show Dogs Wear?
Show collars need to be subtle in color and thickness to highlight the features and appearance of the dog. That's why the show collar and leads allow the judges to watch the dog more naturally rather than fashion objects. Most dog collars and leads blend and match with the skin color of the dog. Moreover, the dog handlers need to send signals to the dogs with light touch and tugs. For this purpose, the dog handlers need to choose dog collars and lead with fewer heavy leashes.
What is the Most Comfortable Dog Collar?
Comfort is the most critical factor to look for before choosing a dog collar. To provide a more comfortable experience to your dog, you should choose a collar that is
Wide enough to spread the pressure on your dog's neck more evenly.
It should have padding to provide a comfy feeling to the dog.
The material should be leather or Nylon, which produces less friction between the collar and the dog's neck.
A regular flat collar is considered the most comfortable and ultimate choice for dogs. They have leather or nylon materials and are wide enough to let your dog move his neck freely. A martingale collar is considered a very suitable choice for training purposes.
Final Thoughts
Before choosing a collar for your pup, remember that a flat collar is enough to let your dog walk alongside you without much pulling and attach the information with the dog. All the other collars are for specific purposes and should only be considered to control some unwanted behaviors in the dogs. We also recommend consulting your vet regarding the choice of a collar for your furry companion.
If you love this blog post, please don't hesitate to Share it with your family & friends! Once you've done the sharing, find us on
@Kuoser Dog Apparel, we'll grant you a 30% discount coupon on your next purchase at Kuoser! Thank you so much for reading & sharing!
READ NEXT:
---